Coming Soon in the Steele Ridge series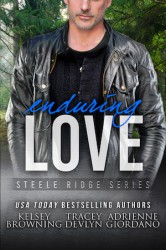 Enduring Love
Release Date: March 22, 2018
From the outside looking in, Joan Steele has everything--her health, a beautiful home, and six wonderful adult children. But deep inside, she's missing what every woman wants. A man to love and share her life with.
When an ex-convict shows up in Steele Ridge, Joan knows he means to do her family harm. And she can't help but put the blame at her estranged husband's feet. After twenty years of marital limbo, Joan has sacrificed enough for the man.
Now she vows to fight back, but will her family's broken past destroy her future with the love of her life?
Coming Soon in the Steele Ridge: The Kingstons series
Searing Need
Release Date: September 20, 2018
To escape a brutal killer, a brilliant researcher teams up with a tortured soldier who poses an even greater threat . . . to her heart.
Her sister might be the law and her brothers the brawn, but Riley Kingston is definitely the brains of the family. She's a talented botanist well on her way to a PhD—so why does she feel like a failure? Fired from a dream project in Costa Rica, Riley's stuck back in her hometown. Cataloguing plants on Steele land keeps her busy, but it's far from compelling work. Until she discovers a fascinating new specimen. One with a body made for pleasure . . . and eyes filled with a pain she longs to understand.
Delta Force operator Coen Monroe doesn't want to be studied. Not even by the sexy scientist whose inquisitive glances stir up desires he isn't ready to handle. He came to Steele Ridge to be alone, to battle his nightmares and the memories triggering them. But Riley's gentle seduction is as relentless as her curiosity. She soothes his wounded soul . . . and fires up his defensive instincts. But once her research sparks a deadly conspiracy, Coen is exactly what she needs.
When Riley is targeted by a sociopath bent on silencing her forever, Coen will do anything to protect her. But can he save the woman he loves without losing himself in the process?